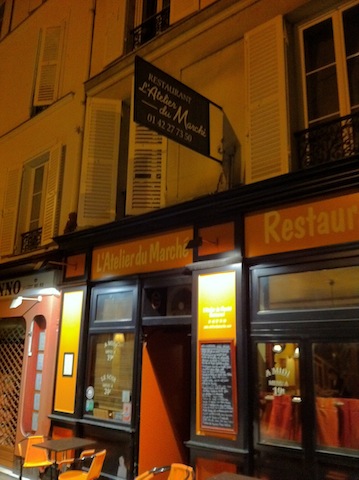 L'Atelier du Marché
4 Rue Saussier Leroy
75017 Paris, France
01 42 27 73 50
It was a cold winter evening.  We just arrived in Paris via train from Montpellier–I was cold and hungry.  After a long taxi ride to our hotel, and a quick check-in, my colleagues and I set off to L'Atelier du Marché for dinner.  All I wanted was steak and fries–one of my favorites.  And yes, the menu had Steak and Fries, but the menu also had Steak Tartare, and given a warmer day I would have taken it without thought, but I settled for "cooked" food (if you consider rare beef, "cooked").  Fortunately my colleague Sam ordered the tartare.
The food was awesome, as was the environment (casual).  And the size of the tartare was huge.  There was no way Sam was going to eat all of that raw beef.  I waited patiently, and finally Sam was stuffed–the tartare was mine!  It was delicious!  BTW, I couldn't finish it off either, I was stuffed too.
I'd have to rate the tartare at L'Atelier du Marché 2nd best.  My favorite still comes from the sushi restaurant inside the Shenzhen Crown Plaza; where they serve steak tartare as a bowl of cubed raw beef seasoned only with a raw chicken egg mixed in table-side.  Yum!
---
Jay's "How to cook a rare filet" recipe
Take the filet out of the fridge.
Place the filet on the kitchen counter.
Let the filet warm to room temperature.
Copyright © 2007, 2008, 2009, 2010, 2011 Jay Urbanski
Disclaimer:  Eat at your own risk.  You should always properly "cook" your food.