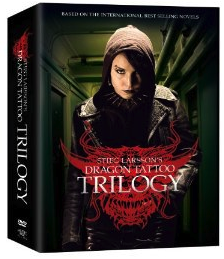 If you are looking for an objective review of the Swedish film adaptation of Stieg Larsson's Millennium series; The Girl with the Dragon Tattoo, The Girl Who Played with Fire and The Girl Who Kicked the Hornets' Nest; then keep looking, you will not find it here. Why? Well, unlike politicians where you have to pick the ones that suck the least, movies for me are the opposite.  I like all of them.  With one exception, Eraserhead (another story for another time).
My wife and I made the approximately 7.5 hour investment this weekend, complete with subtitles.  In a sense, I have read The Girl with the Dragon Tattoo :-)  What did I think? I thought they were awesome.  They had everything I like in a movie; European cities, mystery, realistic action, great acting, and Macs.
We watched the first two movies as iTunes rentals streamed from my wife's laptop to our Apple TV.  The third I rented as a Blu-ray from Blockbuster after Apple TV failed to stream when we tried to rent it directly from Apple TV (Google for "slow apple tv")–but that's another story.  The Blu-ray rental (unlike the iTunes rental) had the option for dubbed audio instead of subtitles.  I am not a fan of dubbed audio, and I was really starting to learn a few Swedish four letter words–we finished the third with subtitles as well.
The Problem with Subtitles
The problem with subtitles is, that you cannot look away from the screen, not even for an instant with this type of movie.  But I'll give you a hint that may be unique to this trilogy; just in case you get lost in the story.  All of the good guys use Macs and the bad guys don't.  I've never seen so much airtime for any Apple product in a movie (that I recall).  The film's leading female and male characters (a hacker and a journalist respectively) both sport, throughout the series, circa 2007 MacBook Pros.  You'd think Apple would have made the series a streaming priority (still pissed, but I'll move on).
My advice.  See the movies, and read the subtitles.  And then tell me if the Swedish word for shit is really fuck.  Because that is what it sounded like in the movie.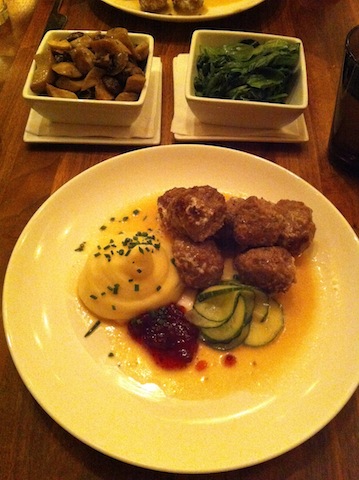 Meatballs
I cannot watch a Swedish film without thinking of Swedish meatballs.  I love Swedish meatballs.
If you are ever in New York, then please visit my favorite meatball joint, Aquavit.  It's not cheap, but very very good.
Don't waste your time with the restaurant, just eat in their more casual bistro (off to the left as you enter).
Aquavit
65 East 55th Street
New York, NY 10022
+1 212-307-7311
info@aquavit.org